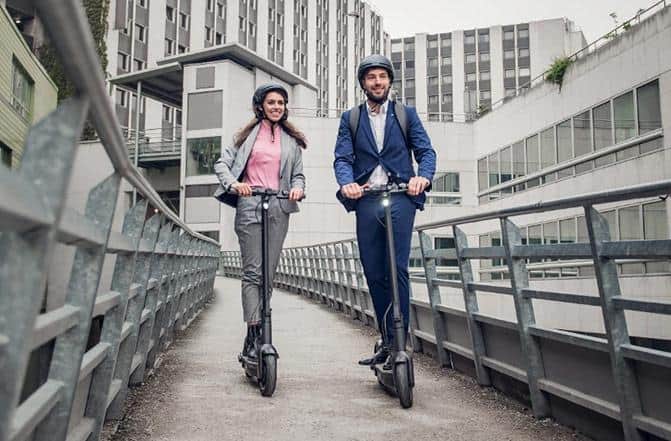 INTRODUCTION TO SEGWAY-NINEBOT KICKSCOOTER MAX G30P
The Segway-Ninebot Kickscooter Max G30P is the Gen-1 electric scooter from Segway-Ninebot. Ninebot is a privately held company who in April of 2015 acquired Segway Inc. The combined companies focus is on the research and development, design, manufacturing, distribution and sales of short-distance transportation products. The ultimate goal is to promote the evolution of our products to become the world's leading provider of mobile robotics solutions.

POWER AND RANGE
The Segway-Ninebot Kickscooter Max G30P is equipped with a powerful 350 watt and durable engine at it's rear wheel. The model offers top of the line specifications with a battery capacity of up to 65 Kms and a top speed of up to 30 km/h. The power ful motor can handle upward gradients of up to 20º without any compromise on power output. As a standard safety function, the scooter needs to be manually put in motion to reach 3 km/h after which the accelerator throttle goes active.
LCD DISPLAY
The Ninebot Kickscooter Max G30P is provided with a multifunctional display that indicates the speed, battery level, and speed setting. The 3 different speed settings are:
· ECO for a durable, energy-efficient drive
·      D for standard use
·      S for sport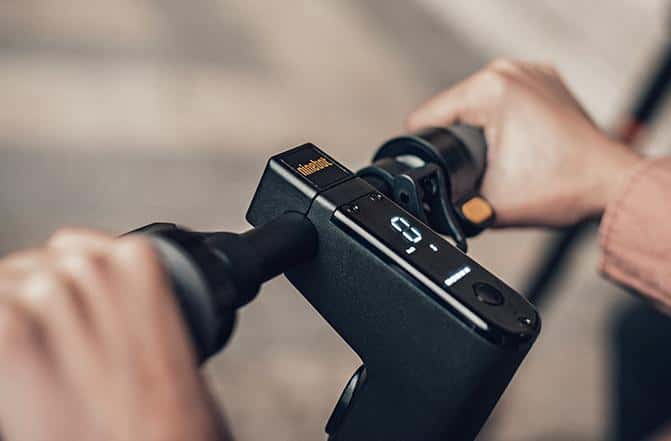 ADDED FUNCTIONALITIES
The Ninebot Max G30LP is equipped with front and rear lights with brakes lights included so late-night rides won't be dangerous. Also, this electric scooter had a built-in bell making it easy to notify people when you pass by. When the final destination is reached it is very easy to carry the electric scooter by hand because of the foldable design. With bright LED head and tail lights, you are sure to be noticed while riding in the dark. Moreover, the scooter also has a mechanical bell which may be used in instances wherein pedestrians around need to be notified about your presence. The scooter is designed with off-journey handling in mind. The latching mechanism helps the scooter fold into a compact architecture and moreover, the main body's handle doubles up as a carrying handle (as depicted below).
ANTI-FLATS
The 10-inch Tubeless anti-flat air-filled tires make riding the Segway-Ninebot Kickscooter Max G30P a real pleasure, as it cruises around any type of road with ease and comfort, and you never have to worry about getting a flat along the way.
FINAL SAY
In combination with the 65-kilometer range, 30 km/h top speed, 551 Wh battery, anti-flat tires and a decently moderate price, the Ninebot Max G30P is one of the best in its category.
OVERVIEW SEGWAY-NINEBOT ELECTRIC SCOOTERS
| | | | | |
| --- | --- | --- | --- | --- |
| Model | ES22 | ES4 | MAX G30LP | MAX G30P |
| Motor power | 250 watt | 300 watt | 350 watt | 350 watt |
| Top speed | 20 km/h | 30 km/h | 30 km/h | 30 km/h |
| Battery | Lithium-ion (184Wh) | Lithium-ion (374Wh) | Lithium-ion (367Wh) | Lithium-ion (551Wh) |
| Battery range | Up to 20 km | Up to 45 km | Up to 40 km | Up to 65 km |
| Braking system | Hand and foot brake | Hand and foot brake | Hand brake | Hand brake |
| Wheel size | 9 inch | 8 inch | 10 inch | 10 inch |
| Type of wheels | Anti skid tubeless air tires | Solid rubber tires | Tubeless air tires | Tubeless air tires |
| Display | Yes, multifunctional display | Yes, multifunctional display | Yes, multifunctional display | Yes, multifunctional display |
| App | Yes | Yes | Yes | Yes |
| Hill grade | 15% | 15% | 20% | 20% |
| Lights | Front and rear light | Front and rear light | Front and rear light | Front and rear light |
| Folding | Yes | Yes | Yes | Yes |
| Weight | 13,5 kg | 14 kg | 17,5 kg | 19,1 kg |