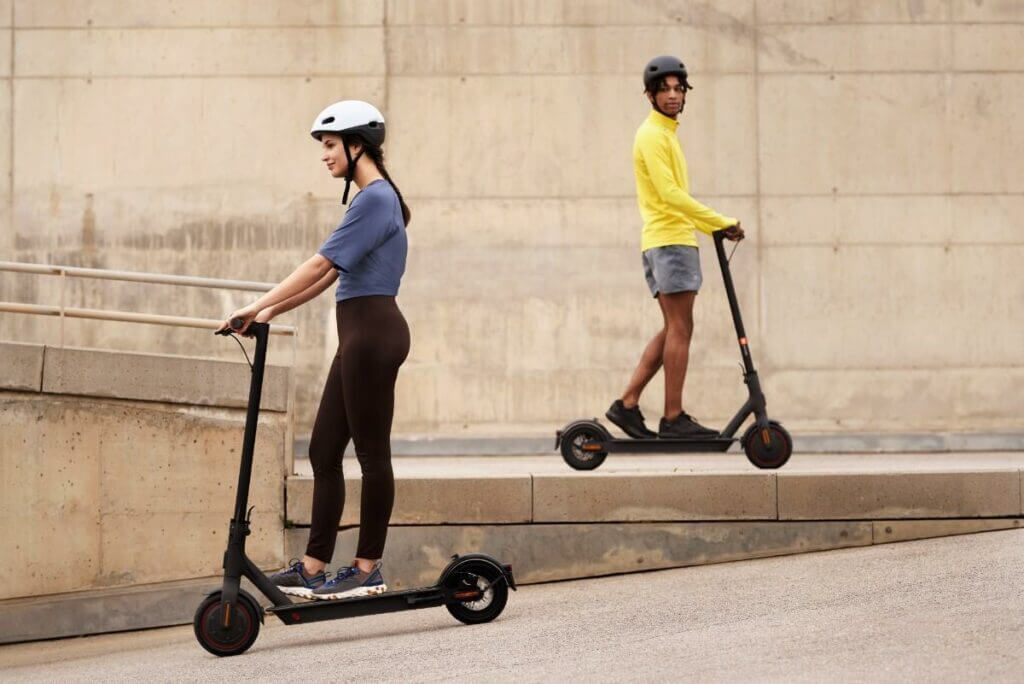 MI Pro 2 Electric Scooter at a Glance
Maximum speed 15.5mphh
Maximum range: 28 Miles/ 45km*
Typical range: 20 Miles/ 32km**
Dual braking system – Automatic electronic regenerative brakes with E-ABS and rear disc brake
Skid resistant and shock absorbing 8.5-inch pneumatic tires
Sophisticated cruise control system
Upgraded LED display with speed, battery level, distance and driving mode
Three speed modes – Pedestrian, standard and sports
Brand new front, rear & side reflectors and a license plate holder for added safety
Front, rear and brake lights
Smart phone enabled – connect via Bluetooth to the MI Home App
*Actual range may vary depending on riding conditions **Potential range tested in average conditions
Award Winning
The award-winning MI M365 Pro e-scooter returns for 2020 with the new MI Pro 2 Electric Scooter and it's better than ever!
Retaining the high-grade features that made it the world's best-selling e-scooter, the updated Pro 2 offers an enhanced riding experience thanks to a new lighting safety system and improved skid resistant and shock-absorbing pneumatic tires.
Minimal Design
All of this is achieved thanks to a minimalist design which provides only the essentials required for performance and convenience, including a multi-functional dashboard, high-power lithium battery and new pneumatic tires, with the additional bonus of a 2-year warranty, so that your e-scooter is well protected.
The Pro 2 keeps is crafted out of aircraft-quality Aluminium for a light overall weight of just 14.2kg.
Functionality
A fifth generation BMS Smart Battery System monitors your battery, sending updates to the MI Home App so you are aware if there are any problems.
Easily paired to your scooter via Bluetooth, the app is your smart driving assistant equipped with a remote locking system, key rider data and allows you to customize the cruise control settings.

Durable
Finished off with new generation 8.5 pneumatic tires, the Pro 2 is the perfect electric scooter. Highly puncture resistant and robust, the durability of the tires has been increased by up to 3 times.
A great advancement which means the Pro 2 is not restricted to smooth tarmac and can be used to explore gravel and dirt roads.
NEWRANGEOF MI E-SCOOTERS
NEW
MI ESSENTIAL
NEW &
IMPROVEDM1 1S
NEW &
IMPROVEDMI PRO 2
Max Range
12.4 miles / 20km
18.6 miles / 30km
28 miles / 45km
Average Run Time
40 minutes
50 minutes
1hr 15 minutes
Max Speed
12.4 mph
15.5 mph
15.5 mph
Speed Modes
3 – Pedestrian, Standard and Sport
3 – Pedestrian, Standard and Sport
3 – Pedestrian, Standard and Sport
Display
Basic LED display with battery & ride mode
Upgraded LED display with speed, battery, distance & ride mode
LED display with speed, battery, distance & ride mode
E-scooter Activation

Before first use, the e-scooter needs to be activated on a smartphone via the MI Home App.
Please download the MI Home App from the Apple App Store or Google Play Store.
Follow the instructions in the app to activate the e-scooter.
E-scooters that have been altered or modified from the manufacturer's original specifications.
Details can also be found in the user manual.
What's in the Box
MI Pro 2 Electric Scooter x 1
Power adapter x 1
Innertube x 1
Tire x 1
T-shaped Allen key x 1
Extended nozzle adapter x 1
Screws x 5
User manual x 1
Specifications x 1