Xiaomi Air Purifier Pro H
The Xiaomi Air Purifier Pro H removes formaldehyde, purifies PM2.5 allergens and bacteria. It comes with a new and powerful wind path. This device uses a tower structure with particle CADR of up to 600m³/h and formaldehyde CADR of up to 220m³/h. This makes it suitable for a maximum of 72 square meters of space.
The new improved filter element uses H13 high-efficiency HEPA filter material. This can filter 99um particles by 99.97%. The inner columnar carbon can absorb harmful gases or odors such as toluene and purifies for a long time. This air purifier eliminates the smell of kitchen fumes, food, smoke, the smell of pets and bathroom smells. The Xiaomi Mi Air Purifier Pro H effectively removes all kinds of odors and keeps the air in the home fresh.
This device comes with sleep, automatic and favorite functions for easy operation. In addition, it also has three pre-set levels which can be adjusted with one button. The low-speed gear cleans for a longer period of time while the medium and high-speed gear cleans quickly.
Through the Mijia APP, you can always know the air quality in your home. In addition, you can also remotely control the device via the app. This air purifier is compatible with Xiaomi AI and can control other Xiaomi smart products.
While the air purification capacity has been improved in an all-round way, the Mijia Air Purifier Pro H still provides a more intelligent and convenient human-computer interaction experience:
In addition to the original sleep, automatic and favorite gear, Mijia air purifier Pro H also has preset low-speed, medium-speed, high-speed three-stage manual shift, one-click switching, young and old.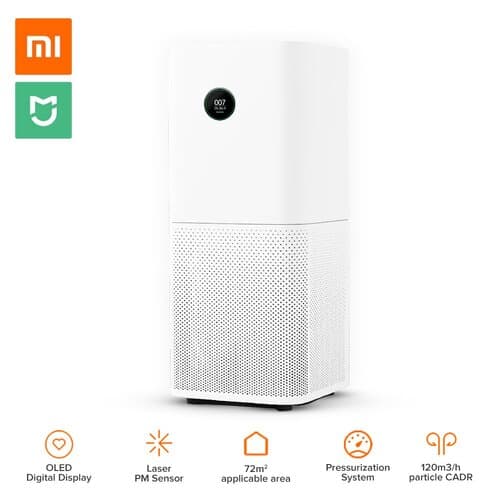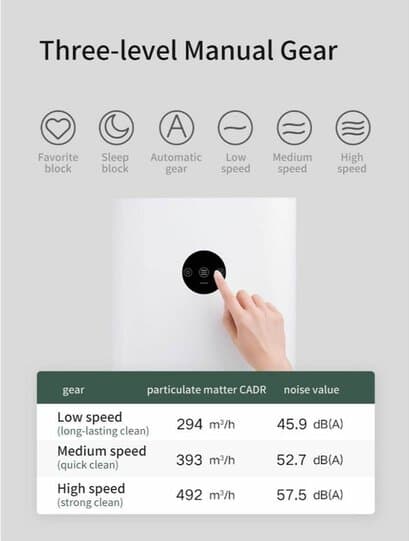 Xiaomi Air Purifier Pro H General Details
| | |
| --- | --- |
| Brand | Xiaomi |
| Type | Air Purifier pro H |
---
Other Information
| | |
| --- | --- |
| CADR (Clean air delivery rate) | 500m3/h |
| Application area | 42-72m² |
| Screen | OLED display |
| Wireless connection | WIFI module 802.11b / g / n |
| Power | 70W |
| Global voltages supported | AC 100V-240V @ 50/ 60 Hz |
---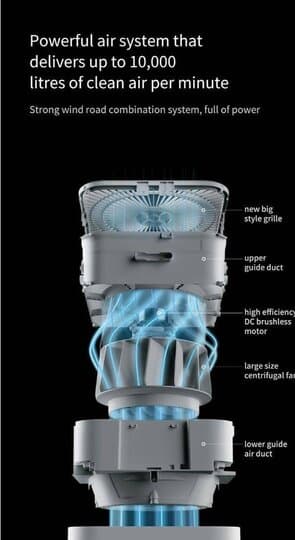 Sensors
Laser particle sensor, Light sensor, Temperature and humidity sensor
---
Functions
Automatic mode
Light sensor
OLED display
Sleep mode
Child lock
Favorite mode
Wind speed regulation
---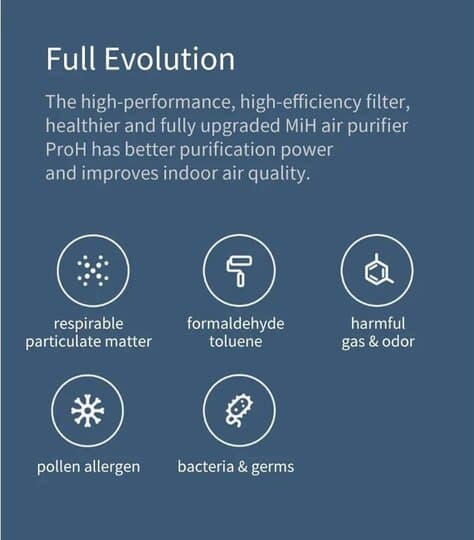 Compatibility
About AI Ecosystem
Our eBay customers who purchased these Xiaomi Air Purifier Pro Hs from us speak high about their experience buying from us. Refer to their customer feedbacks here
We are an Australian Small Family Business, holding the values of Small Business Australia to the highest levels. Read more about us at here