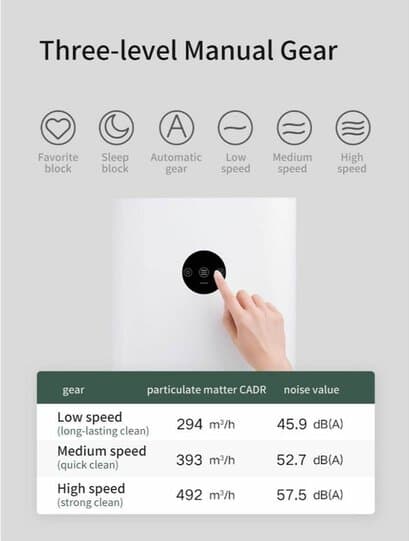 Air Purifier MI Pro H removes formaldehyde, purifies PM2.5 allergens and bacteria. It comes with a new and powerful wind path that uses a tower structure. This can output 10000 litres of clean air per minute through the optimized strong wind system combination. Hence raising the CADR of particulate matter to 600m³/h and the maximum applicable area to 72 litres. It basically meets the air purification needs of ordinary urban families.
With the help of the strong wind circuit system operation, the Pro H increases the formaldehyde CADR to 220m³/h. And the measured value of the product also reaches 250m³/h. This is nearly 10% higher than the formaldehyde CADR value of about 200m³/h for most air purifiers.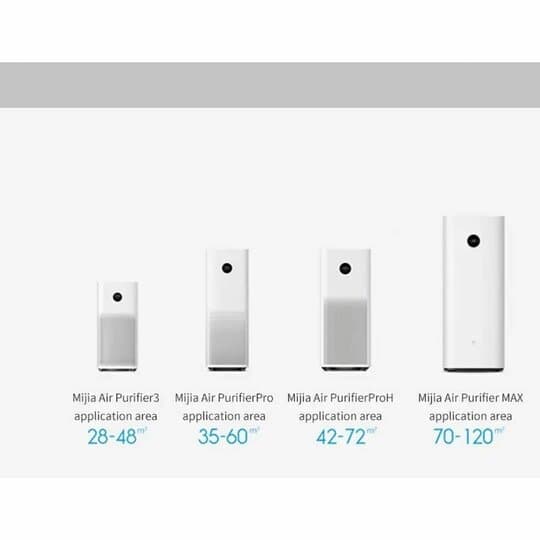 In appearance, the Mijia Pro H is very similar to the previous generation Mijia Air Purifier Pro. This is as both are white in design and have a circular LED touch screen. The size 310x310x738mm is also very suitable as it does not take up space and is easy to store.
The overall improvement in the purification power of the Mijia Pro H also comes from the newly upgraded filter element. H13 high efficiency HEPA filter material can filter 99.97% 0.3μm particles in air. The CADR value of pollen and other allergens is as high as 539.9m³/h. And the removal rate of common allergens and harmful bacteria is as high as 99.8%.
The filter element of Mijia air purifier Pro H also contains more high quality catalyst activated carbon. This can strongly adsorb harmful gases such as formaldehyde, toluene, secondhand smoke, kitchen oil smoke, odor and so on.
Simple and convenient operation
While the air purification capacity has been improved in an all-round way, the Mijia Air Purifier Pro H still provides a more intelligent and convenient human-computer interaction experience: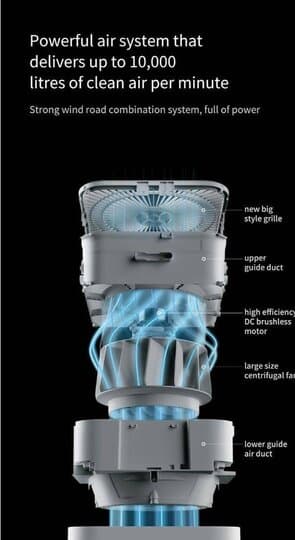 In addition to the original sleep, automatic and favorite gear, Mijia air purifier Pro H also has preset low-speed, medium-speed, high-speed three-stage manual shift, one-click switching, young and old.
Touch manipulation of large OLED displays, green, orange and red warning lights and numerical display of particles obtained by the built-in laser particle sensor gives people a clear picture of the indoor air. In addition, Mijia air purifier Pro H also supports Mijia APP remote control + AI voice intelligent control, hence making it more convenient and fast. At the same time, the Mijia air purifier Pro H can also be linked with the Mijia and Zhimi intelligent appliances, so that users can enjoy a more intelligent and convenient home air purification scheme. 
Air Purifier Pro H has Improved Filter Design
The optimized design of the Mijia Air Purifier Pro H filter element HEPA filter material unfolds the area of the filter media to reach 35000cm². And formaldehyde CCM exceeds the F4 grade and the particulate matter CCM is more than 3 times that of the P4 grade standard with a higher dust capacity.
Mijia Air Purifier Pro H not only improves purification capacity but also extended the filter element replacement cycle to 14 months. This is so that users do not need to change the filter frequently to maintain excellent air purification efficiency.
This device comes with sleep, automatic and favorite functions for easy operation. In addition, it also has three pre-set levels which can be adjusted with one button. The low-speed gear cleans for a longer period of time while the medium and high-speed gear cleans quickly.
Through the Mijia APP, you can always know the air quality in your home. In addition, you can also remotely control the device via the app. This air purifier is compatible with Xiao AI and it can control other MI smart products.